What is Quarry Tile Exactly?
Metropolitan Ceramics quarry tile products are engineered for the jobs. Use Metropolitan Ceramics quarry tile products in commercial, residential, indoor and outdoor applications.
---
What is Quarry Tile Exactly?
Metropolitan Ceramics quarry tile products are engineered for the jobs. Use Metropolitan Ceramics quarry tile products in commercial, residential, indoor and outdoor applications.
---
Manufactured Using the Extrusion Process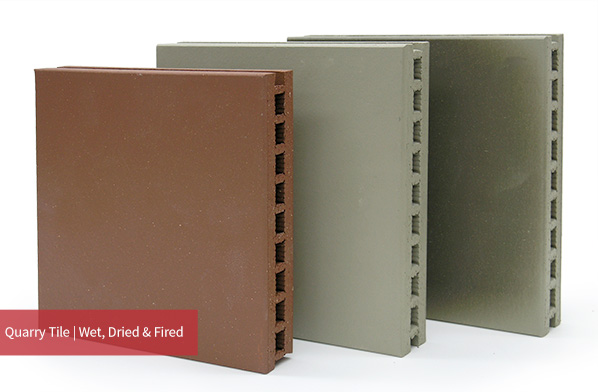 Not mined from a quarry as might be suggested by the name, quarry tiles are manufactured. Quarry tile production has its "roots" in the brick-making industry and uses raw material very similar to that used in brick products. "Natural" and "durable" are the words best used to describe quarry tiles.
These vitreous (low absorption) tiles are extruded through a die and cut. The extrusion process creates a much tighter/denser body than can be achieved through other manufacturing methods. The die also creates a ribbed back on the tile to improve mortar adhesion. The tiles are made from a mixture of natural ingredients, including clays, shales and feldspar. Once dried, they are hard-fired in kilns at temperatures exceeding 2,000 degrees Fahrenheit.
Metropolitan Ceramics quarry tile is suitable for the most demanding installations. They are often the floor covering used in commercial kitchens, breweries, dairies, and other heavy use, high traffic commercial spaces.
Metropolitan Ceramics quarry tiles are both naturally appealing and very practical. The tiles are slip resisting and are an excellent choice for areas subject to heavy spills and moisture. They also perform well in outdoor applications – even in extreme climates. Extrusion also creates a tight die skin surface making the tiles resistant to soiling*.
Colors are created from the choice of natural raw materials put into the "mix." Tiles with a base of shale generally have a red or brown color. Tiles with a base of clay typically have a gray or beige color.
Some Metropolitan Ceramics quarry tile is produced with a shade variation from tile to tile. This classic architectural look (sometimes known as flashing) is achieved by controlling the kiln's oxygen and gas flow. Whether monotone or with color variation, all Metropolitan Ceramics quarry tile colors have a natural look that matches other design elements.
This combination of features, along with the ½" thickness of Metropolitan Ceramics quarry tile – make it the right choice for demanding commercial and residential applications indoors and out.
*For areas susceptible to heavy spills and moisture, you may choose to seal the tile with a penetrating sealer.
See the Difference in Our Products
Highly durable and resistant to slips, quarry tile sets the standard for demanding environments. Quarry tile is made from ground minerals then extruded and fired at extremely high temperatures in a process similar to brick-making. Metropolitan Ceramics has been in the brick and tile-making business since the 1860s — and we have perfected the products we manufacture to stand the test of time. Our quarry tile is made for the most challenging environments, where moisture, spills, heavy traffic, and temperature extremes are commonplace. Whatever the application — commercial kitchens, food processing facilities, frozen storage, indoors or out, Metropolitan Ceramics has the quarry tile to create a safe, durable, and attractive floor.
QuarryBasics® is Metropolitan Ceramics' line of natural, unglazed, high-density ceramic quarry tile. Designed and manufactured with heavy use in mind, there's nothing "basic" about this tile: QuarryBasics® is the go-to tile for commercial kitchen designers, meeting or exceeding eight durability tests, including breaking strength and abrasion resistance. Our tiles are highly slip-resistant and feature a ½" thick profile for extra durability so they will last for decades to come. QuarryBasics® is available in a range of seven nature-inspired colors.
QuarryBasics® XA Abrasive
For added protection from slips, Metropolitan Ceramics embeds silicon carbide into the surface of our ceramic quarry tile as well as a metallic additive throughout the body of the tile. The result: QuarryBasics® XA Abrasive. XA Abrasive tile offers superior anti-slip properties, with a dynamic coefficient of friction ≥.70 — well above the industry guideline of .42. QuarryBasics® XA Abrasive tile is designed with the most demanding environments, such as high-volume commercial kitchens or other environments where wet floors and extreme temperatures are commonplace.
With raised treads plus the durability and slip resistance of our QuarryBasics® tile, Metropolitan Ceramics' METRO Tread® tile is designed for superior stability. Each tile features nine treads, spaced at ⅝'' intervals for superior grip. METRO Tread® quarry tile has a dynamic coefficient of friction of ≥.60 when wet. Its traction can be further enhanced by installing the tiles in a grid pattern for areas with multi-directional traffic or in a linear pattern for hallways or ramps. Get superior safety that will last for decades with METRO Tread®
Upgrade patios, walkways, or other hardscape with Down to Earth® Quarry Paving Tile from Metropolitan Ceramics. With a natural surface texture and four classic colors, Down to Earth® provides the look of a paver brick in an easy-to-install tile. Suitable for indoor as well as outdoor use, these tiles create a durable, non-slip flooring surface for entryways, mudrooms, or laundry rooms. Timeless appeal and a superior traction come together in Down to Earth®.
Royal Thin Brick® features a ⅝'' profile that allows it to go where standard brick can not. This decorative, unglazed thin brick offers the look today's customers want: a contemporary, larger brick face, wire-cut texture, light distressing, and a time-worn appearance with subtle, natural variations in color. On-trend and timeless colors range from light gray and beige to rich reds and dark browns and near black. Although it is authentic brick, Royal Thin Brick® installs just like ceramic tile and can affix to nearly any substrate. Use it for exterior walls, walkways, patios, interior/accent walls, floors, backsplashes, fireplace surrounds, and more.
METROBRICK® thin brick is real, kiln-fired brick that can go nearly anywhere, including narrow-profile spaces, that standard bricks can't. METROBRICK® installs with standard tile-setting methods and is suitable for new construction or remodels and residential or commercial projects. METROBRICK® looks exactly like full-sized brick when installed — but goes up faster and more economically than standard-sized brick. METROBRICK® is offered in nine colors and seven color blends. Use METROBRICK® anywhere you want an authentic brick finish, indoors or out.
Still have questions? We're here to help. Contact us online and someone will be in touch regarding your request. We are also available by phone at 1.800.325.3945.